Integrate with UISP to load customers and network infrastructure into Preseem.
Preseem can integrate to your UISP (formerly called uNMS) system to keep in sync with customers, services and network infrastructure. The following steps describe how to setup UISP for use with Preseem.
UISP has two applications within it: CRM and Network. Preseem queries the CRM application to read customer information such as package speeds. Preseem queries the Network application to read site and customer equipment and IP assignment information.

The header bar at the top of the UISP website is used to switch between the Network and CRM applications.
UISP Setup Procedure
Preseem requires an App Key for the CRM application.
To generate an App Key, navigate to the CRM application, and select System > Security from the menu at the left side of the screen. Then select the App Keys tab from the top of the Security screen.
Click the + App key button at the top of the screen to add a new App key. Input a name for the app key (e.g. "Preseem") and set the Type to "read". Click Save.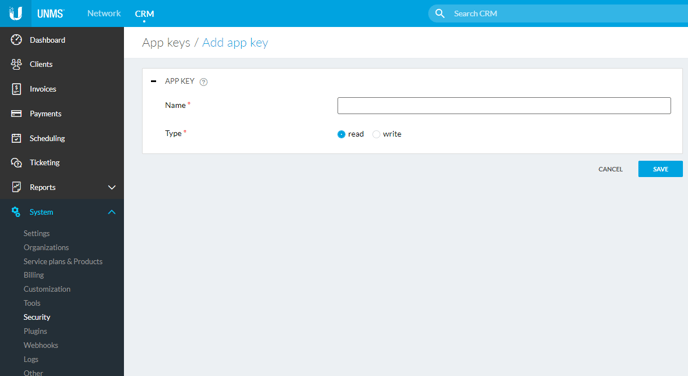 This will bring up a summary of the new App key. Copy the Key, this is what you will need to provide to Preseem.

Next, Preseem requires an API Token for the Network application.
To generate an API Token, navigate to the Network application, and select the Settings icon from the toolbar at the left of the screen. Then, select Users from the Settings menu. API tokens are listed under the API tokens heading.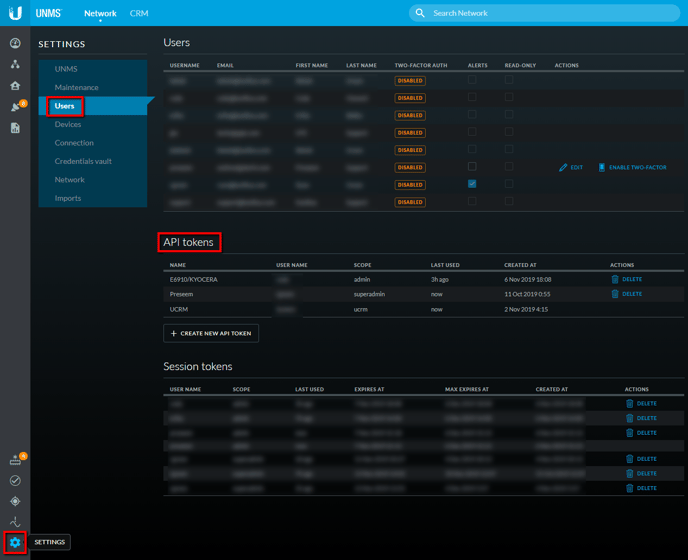 Press the + Create New API Token button to create a new API token. You will be asked for a name. Enter a name such as "preseem" and press the Save button.

You will be presented with an API token. This is the API token you will need to provide to Preseem, so copy and save it.

Finally, provide the Preseem support team with the following information:
The URL to your UISP instance
The App key
The API token